 BIOS ANNA VOLTA

BIOS Anna Volta
The World's Fastest Deep Learning Training Accelerator
The revolutionary NVIDIA® Telsa® architecture is purpose-built to be the engine of computers that learn, see, and simulate our world—making it the perfect GPU backbone for the BIOS ANNA and ensuring it is a contender for the title of 'world's fastest deep learning appliance'.
One of the most interesting features of Pascal is the new NVLink interconnect system. When using a standard multi-GPU configuration with a PCI-E switch, the limited PCI-E bandwidth to the CPU memory is shared between GPU's. The link will become even more saturated when peer-to-peer GPU traffic is factored in. NVLink addresses this problem by providing a highspeed 300Gb/s interconnect path wholly devoted to peer GPU-to-GPU connections. Combining this with RDMA via Infiniband or Omnipath provides the most powerful possible parallel computing environment.
BIOS ANNA VOLTA SPECIFICATIONS
COMPONENT

FORM FACTOR
1U Chassis
4U Chassis
CPU
Dual Intel® Xeon® Scalable Processor Family CPUs
MEMORY
16 DDR4 DIMMS
24 DDR4 DIMMS
Drives
2x 2.5" HS HDD bays
16x 2.5" HS HDD bays
GPU
4 x NVIDIA® Tesla® V100
GPU accelerators
8x NVIDIA® Tesla® V100
GPU accelerators
EXPANSION SLOTS
3x 16 PCIe 3.0 slots; 1 x8 slots
4x 16 PCIe 3.0 slots; 2 x8 slots
POWER SUPPLY
2x 2000W Titanium PWS
2 +2 2200W Titanium PWS
THEORETICAL SINGLEPRECISION PERFORMANCE
125.6 TF
62.8 TF
NVIDIA DGX-1
Inspired by the demands of AI and data science, NVIDIA® DGX-1™ fasttracks your AI initiative with a solution that works right out of the box so that you can gain insights in hours instead of months.
NVIDIA DGX-2
NVIDIA® DGX-2™ is the world's first 2 petaFLOPS system, packing the power of 16 of the world's most advanced GPUs, accelerating the newest deep learning model types that were previously untrainable. With groundbreaking GPU scale, you can train models 4X bigger on a single node.
NVIDIA DGX STATION
Now you can get the computing capacity of 400 CPU's, in a workstation that conveniently fits under your desk, drawing less than 1/20th the power. NVIDIA® DGX Station™ delivers incredible deep learning and analytics performance, designed for the office and whisper quiet with only 1/10th the noise of other workstations. Data scientists and AI researchers can instantly boost their productivity with a workstation that includes access to optimized deep learning software and runs popular analytics software.

NVIDIA DGX-1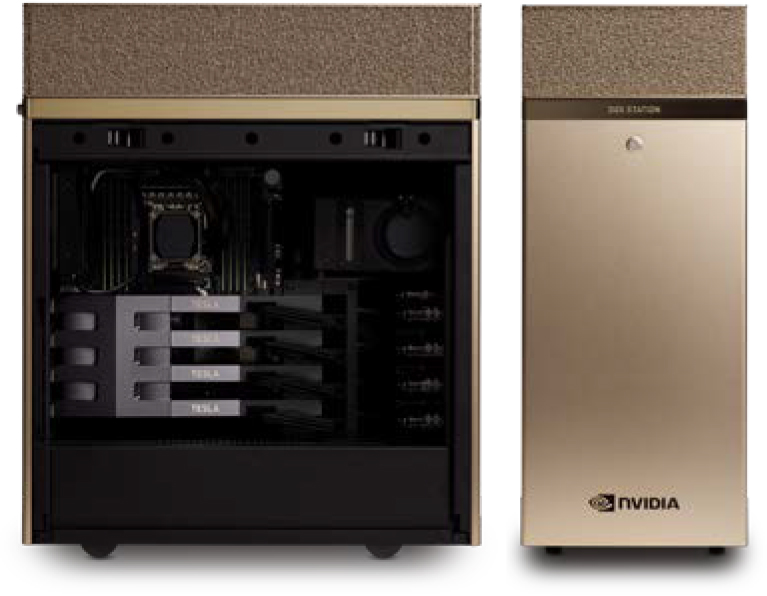 NVIDIA DGX STATION
GPU in the Cloud
BIOS IT's portfolio of GPU accelerated solutions, is not just limited to solid on-premise appliances such as the ANNA, DGX-2 or DGX Station. Thanks to its partnership with cloud infrastructure provider vScaler, BIOS IT can provide customers with AI and Deep Learning specific application stacks in the cloud. The platform, which has latest gen GPUs already integrated takes all the administrative burden out of configuring complex analytical clusters and software eco-systems and has a number of popular Deep Learning frameworks built-in, such as Tensorflow, Caffe and Theano, that can be leveraged on demand.
COMPONENT

DGX-1

DGX -2

DGX Station

FORM FACTOR
3U Chassis
10U Chassis
Workstation
CPU
Dual 20-core Intel® Xeon®
E5-2698 v4 2.2 GHz
Dual 24-core Intel® Xeon®
Platinum 8168 2.7GHz
20-core Intel® Xeon®
E5-2698 v4 2.2 GHz
MEMORY
512 GB
1.5 TB
256 GB
Drives
4x 1.92TB SSD RAID 0
Data: 8x 3.84TB NVMe SSD
OS: 2x 950GB NVMe SSD
Data: 3x 1.92TB SSD RAID 0
OS: 1x 1.92TB SSD
GPU
8 x Tesla P100 / 8 x Tesla V100
16x Tesla V100
4x Tesla V100
Network
Dual 10GbE, 4 IB EDR
8x 100Gb/sec Infiniband/100GigE
Dual 10Gb/25Gb/sec Ethernet
Dual 10Gb LAN
POWER REQ.
3200W
1500W
1500W
All products and companies referred to herein are trademarks or registered trademarks of their respective companies or mark holders.
TESLA V100 AND NVLINK DELIVERS UP TO 50X PERFORMANCE BOOST FOR DATA CENTER APPLICATIONS
Contact us to discuss our solutions
Our experts are waiting to give you competitive quote
Contact Us